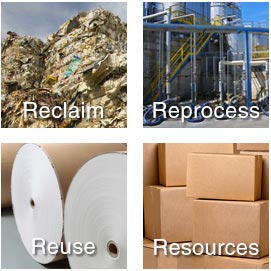 The Recycled Paperboard Technical Association is a non-profit association that brings together the expertise of paper mills worldwide that manufacture products from at least 90 percent recovered fiber. RPTA is dedicated to the improvement of the recycled paperboard industry.
RPTA member companies have been recycling recovered paper since the turn of the 20th century. This heritage of responsible resource management has forged a tradition of innovation and ingenuity that is unmatched in the paper-making industry.
Serving the needs of companies engaged in producing recycled paperboard since 1953, RPTA is dedicated to the improvement of the industry through product stewardship, benchmarking, materials investigations, and education.
Read about RPTA's long-standing commitment to the use of recovered fiber and recycling here.
2016 SCHOLARSHIP AWARD GOES TO TWO STUDENTS
This year, RPTA has presented scholarships to two outstanding students who have shown significant initiative and interest in the recycled paperboard sector. Erik Nelson from SUNY Syracuse's College of Environmental Science and Forestry, currently studying in Munich, Germany and David Lovato from NC State's Paper Science and Engineering School are our 2016 winners. Congratulations Erik and David!