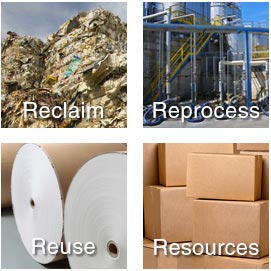 The Recycled Paperboard Technical Association is a non-profit association that brings together the expertise of paper mills worldwide that manufacture products from at least 90 percent recovered fiber. RPTA is dedicated to the improvement of the recycled paperboard industry.
RPTA member companies have been recycling recovered paper since the turn of the 20th century. This heritage of responsible resource management has forged a tradition of innovation and ingenuity that is unmatched in the paper-making industry.
Serving the needs of companies engaged in producing recycled paperboard since 1953, RPTA is dedicated to the improvement of the industry through product stewardship, benchmarking, materials investigations, and education.
Read about RPTA's long-standing commitment to the use of recovered fiber and recycling here.
2018 SCHOLARSHIP AWARD APPLICATIONS NOW BEING ACCEPTED!
For more information please click here.

UPCOMING EVENTS
2018 Industry Profile Study
Registration for the 2018 RPTA Industry Profile Study, the annual physical properties benchmarking study is underway. RPTA members who plan to register can find information on the 2018 study including the registration form here.
2018 Production-Technical Seminar
The 2018 RPTA Production Technical Seminar will be co-located with TAPPI's PaperCon in 2018. The 2018 conference will be held in Charlotte, NC the RPTA sessions taking place on April 16-17, 2018. More information on this event can be found here